Cloud is currently the buzzword making revolutions in the arena of digital file storage. More people are turning to cloud technology to enable virtual storage and retrieval of important files. But besides storage, cloud platforms also offer subscribers an alternative way to earn online as affiliates.
One such platform is Upstore.net, where you can sign up as an affiliate. Customers can buy the product through a unique referral link, enabling you to get a commission from their purchases.
If you'd like to promote Upstore.net cloud storage, look no further. Here, you will get to know how to become an affiliate partner.
But First: What Is Cloud?
It is a system of remote servers that can keep and allow you to access your files without using external drives. You can easily manage your files from the platform by modifying and sharing them with your selected audience.
Cloud ports accept various files such as music, flash videos, images, and documents. Most service providers offer free and paid versions, although the free packages often have limitations.
Upstore.net Affiliate: How It Works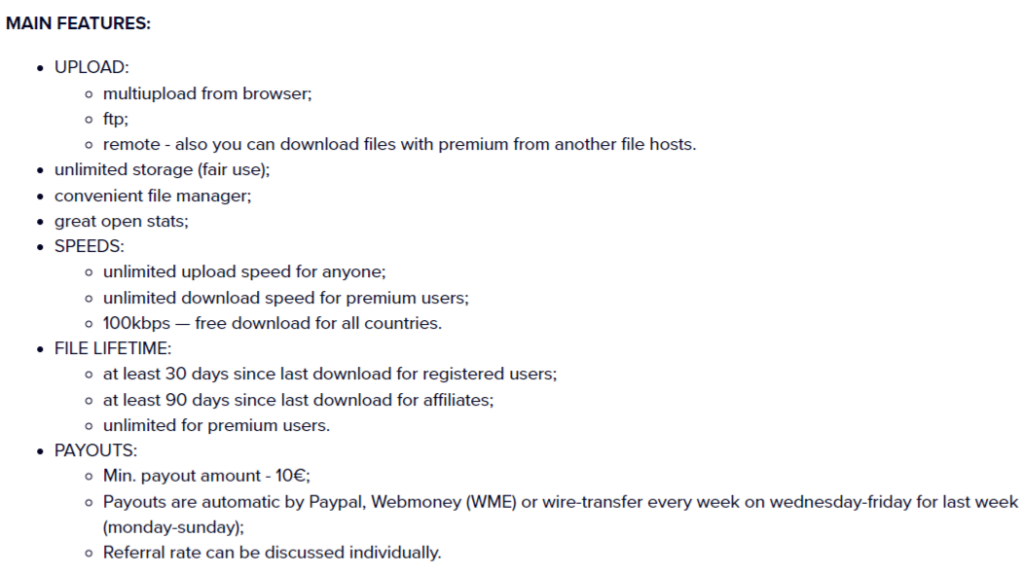 A journey through the affiliate program begins when you sign up as a member. You only require your email to create an account. The registration process is fairly easy; you only need to enter your email address.
Once you set up your account, you don't require additional information. You can then begin using your Upstore account at your convenience.
Once you log into your Upstore.net account, hover to the affiliate section, where you'll sign up as an affiliate. The platform has active customer support where you can seek assistance if any step is unclear.
When you become an affiliate, you'll have a referral URL that directs users to their desired package. Depending on what the client buys through your URL, you'll earn a commission immediately after the client pays the invoice for the subscription.
Upstore.net has a transparency policy that allows you to view all transactions, including your payment history and any outstanding balances. So, you can have confidence that you won't miss out on any commission.
Upstore.net Affiliate: Increasing Your Client Base
Social media is a client-rich hub for affiliates and Upstore.net is no exception. Thus, when you create an account and sign up as an affiliate, be sure to create your presence across social media platforms.
To increase your earnings, share your URL on social media platforms where viewers will access it. If someone buys an Upstore.net premium through your link, you can be sure to earn from the sales.
Become an Upstore.net Affiliate: Final Thoughts
Upstore.net affiliate is a good way to earn passive income online. The platform aims to ensure that affiliates have a reason to smile; hence they offer attractive commissions for internet marketers.
Additionally, an affiliate badge grants you access to payment tracking tools and digital banners, which you can use to drive traffic to your website. You can choose what appears on the banner through a specialized affiliate portal.
Essentially, while you use the platform to leverage your business through cloud storage, you'll also have an opportunity to earn. Not many platforms do that!
If you want to become an Upstore.net affiliate, contact customer support.
You can Read more here: https://ddownloadpro.org/ ,https://upstore.info/