If you are a content creator looking for a safe platform to store your files, look no further than Katfile. With reliable internet, you can upload and download your files from any location, whenever you want.
But that's not all; Katfile is one among few cloud platforms that give back to its users. You can make passive income from downloading your content and referring clients to the site through their affiliate program. You don't have to be a premium user, create an account and refer as many premium users to the platform.
Read on to learn how to make up to $50 from the premium accounts you help Katfile create.
You can find the detailed conditions under the link: Katfile.net
Katfile Premium: How It Works
The affiliate program is available for every user on the platform. You only need to sign up using your name and email.
In addition, Katfile requires you to create a unique password that protects your referral account against unauthorized access.
Once you create an account, go to the "Make Money" section, from where you'll join the Katfile affiliate program.
Benefits of Katfile Affiliate
Becoming an affiliate at Katfile is the surest way to earn from the platform. Here are other benefits of the affiliate program:
Enjoy Higher Earnings
Katfile has one of the most lucrative payments for its affiliate partners compared to other platforms. As an affiliate, you can get as much as $50 for every 1000 downloads you make on the platform.
Have Maximum Comfort
As an affiliate partner, Katfile guarantees you maximum comfort in all your undertakings on the platforms. Talk of faster web access, remote upload of your files, detailed reports of your payment history, and timely payment. Essentially, you'll have a seamless stay throughout your life on the platform.
Decent Commission for Affiliates
The platform has a stable commissioning system that never disappoints. For every referral you make, you'll earn a 10% commission on your customer's profits. Moreover, Katfile is among the few platforms that pay a minimum of $20 for its affiliates.
Different Payment Channels
Affiliates have access to different payment channels that guarantee minimal disappointment in your remittances. You can receive your payment via WebMoney, Bitcoin, PayPal, China's Alipay, among others.
Katfile Affiliate Offers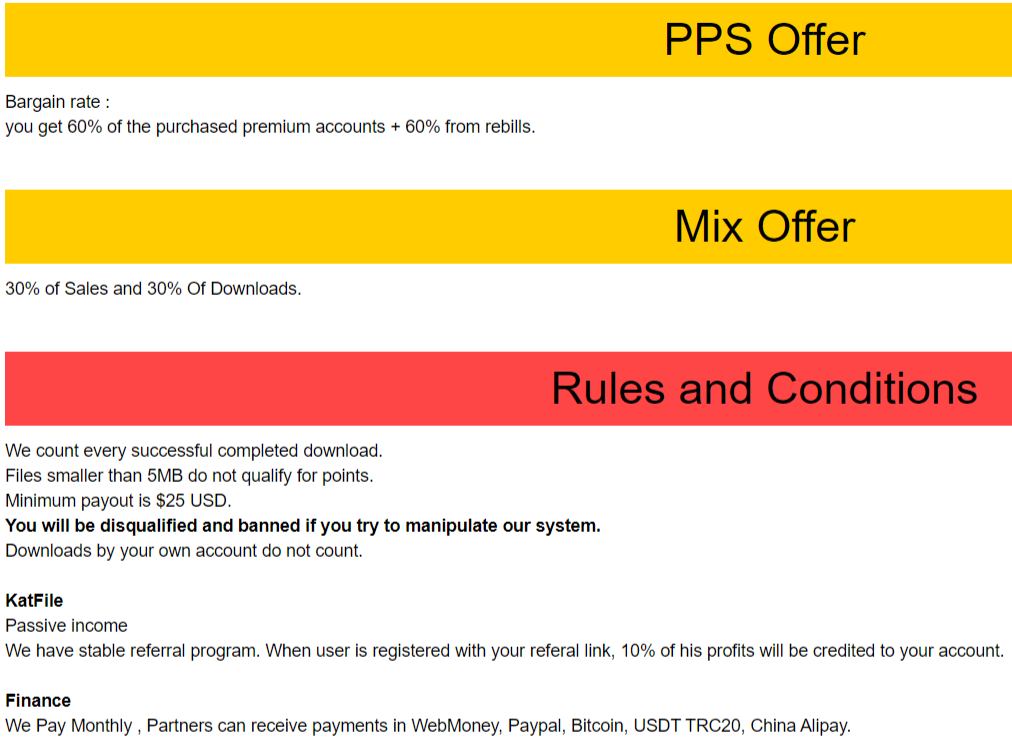 For affiliate marketers on the platform, Katfile offers three attractive plans, namely.
PPD-It earns between 20%-100% on total individual downloads and 1% of the total sales.
PPS-It earns 65% on all referral sales, and 65% on all rebills.
MIX-It earns you a 30% commission on your download, as well as 30% of the referral sales you make.
Katfile Affiliate: Final Thoughts
Are you a basic subscriber on the Katfile platform and looking to upgrade to premium? Or are you a premium user looking to earn passive income? Then Katfile affiliate is the easiest way out.
It offers generous earnings, reasonable payouts, guaranteed comfort, and attractive commissions for all affiliates. Additionally, with various payment methods available, you can receive your payments conveniently.
To begin, create an account, advertise various plans on your website, and sit back as you watch your account overflow with cash.
If you wish to enroll in the affiliate program, join now by creating an account.